Study complete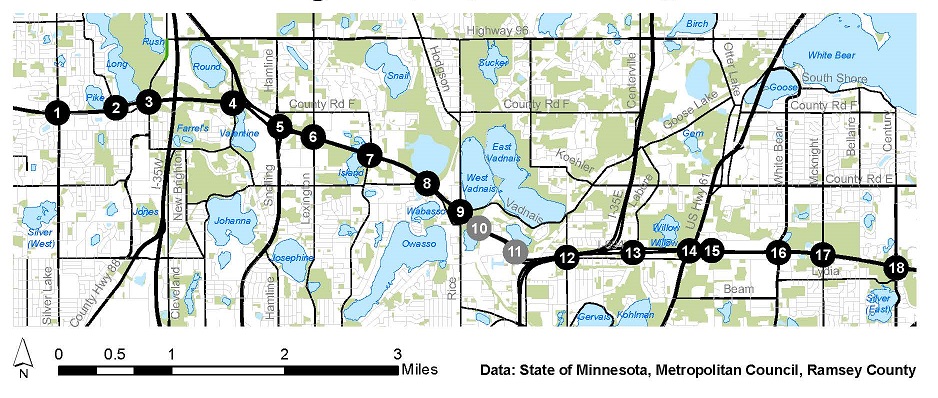 Study work for the I-694 Non-motorized crossing in Ramsey County was completed at the end of summer 2016. It helped determine safety and mobility needs for bicyclists and pedestrians for the area.
The final report provides recommendations to improve the safety and mobility needs for the area. For a copy of the final report or any other documents produced in this study, please contact us.
About the study
The I-694 Non-motorized Crossing Study was initiated to identify pedestrian and bicycle mobility needs across I-694 within Ramsey County and along this Interstate area (Non-motorized travel is prohibited within the Interstate right-of-way by federal requirements.)
MnDOT worked in partnership with Ramsey County to complete the study, with involvement of staff and local leaders from the cities of Arden Hills, Little Canada, Maplewood, New Brighton, North St. Paul, Shoreview, Vadnais Heights, White Bear Lake, and from the Metropolitan Council.
Study purpose and goals
Document the existing network of pedestrian and bicycle facilities in the area
Document future plans or projects in the study area that provide opportunities to improve pedestrian and bicycle mobility
Incorporate areas identified as regional priorities by the Metropolitan Council's Bicycle System Study (2014) and Transportation Policy Plan (2015)
Identify critical connections that should be preserved, maintained, added or enhanced to ensure connectivity around and across I-694
Provide recommendations that can be incorporated into Ramsey County's pedestrian and bicycle plan
The study evaluated 16 existing crossings of I-694 where pedestrian and bicycle access is allowed (non-freeway crossings of I-694) as well as two additional locations that were identified by the study workgroup as potential future crossings. A summary of these findings can be found in the final report. For a copy of the final report, contact us.
Future
The recommendations provided are intended to provide planning level guidance on ways that agencies along the I-694 study area can take advantage of existing and planned projects to improve pedestrian and bicycle safety and mobility. Many of the recommendations require further exploration to determine feasibility, cost and other impacts.
Each partner agency has a role in furthering that work and will need to determine how these recommendations fit within their own priorities and available funding moving forward. Additionally, upcoming planning efforts such as the Ramsey County Bicycle and Pedestrian plan, the MnDOT Metro District Bicycle Master Plan, and local comprehensive plan updates will provide avenues to understand how recommendations for this corridor fit within a larger context.