New Ulm to North Mankato Corridor
New Ulm to Nicollet
(starting construction Spring 2022)
The 12.5-mile segment of Hwy 14 from New Ulm to Nicollet was included in an Environmental Impact Statement (EIS) completed in 2011 and design is complete. The four-lane expansion of Hwy 14 with a Courtland bypass will be constructed in 2022-23.
Watch the video below to learn more about the four-lane expansion project:
Summary of work
Construct a four-lane divided highway from New Ulm (CR 37) to the existing four-lane west of Nicollet
Bypass the city of Courtland

Types of four-lane designs planned for Hwy 14 New Ulm to Nicollet (click to view larger)

Construct grade-separated interchanges at New Ulm (CR 37) and at Courtland (on the bypass with an extension of CR 24 and a realignment of CR 12)
Construct J-Turns or Green-Ts (acceleration lanes) at higher risk at-grade intersections, including:

New Ulm Quartzite Quarries
Jeremy Drive/Kohn Drive (residential neighborhood)
Minnesota Valley Lutheran School

Provide right turn lanes at all public roads
Provide left turn lanes at all median crossings
Realign intersecting roadways to square them to Hwy 14
Install snow fence between Courtland and Nicollet to prevent excessive blowing and drifting snow
Reconstruct two-lane on existing alignment between Hwy 15 and CR 37
Project schedule
Municipal consent from Courtland - spring 2021
Negotiate with landowners for land needed - winter 2020 - summer 2021
Final design complete - fall 2021
Project letting - winter 2021
Construction - spring 2022 - fall 2023
Traffic impacts
Traffic will be detoured in Spring 2022 through Fall 2023. Detour will remain in place during winter.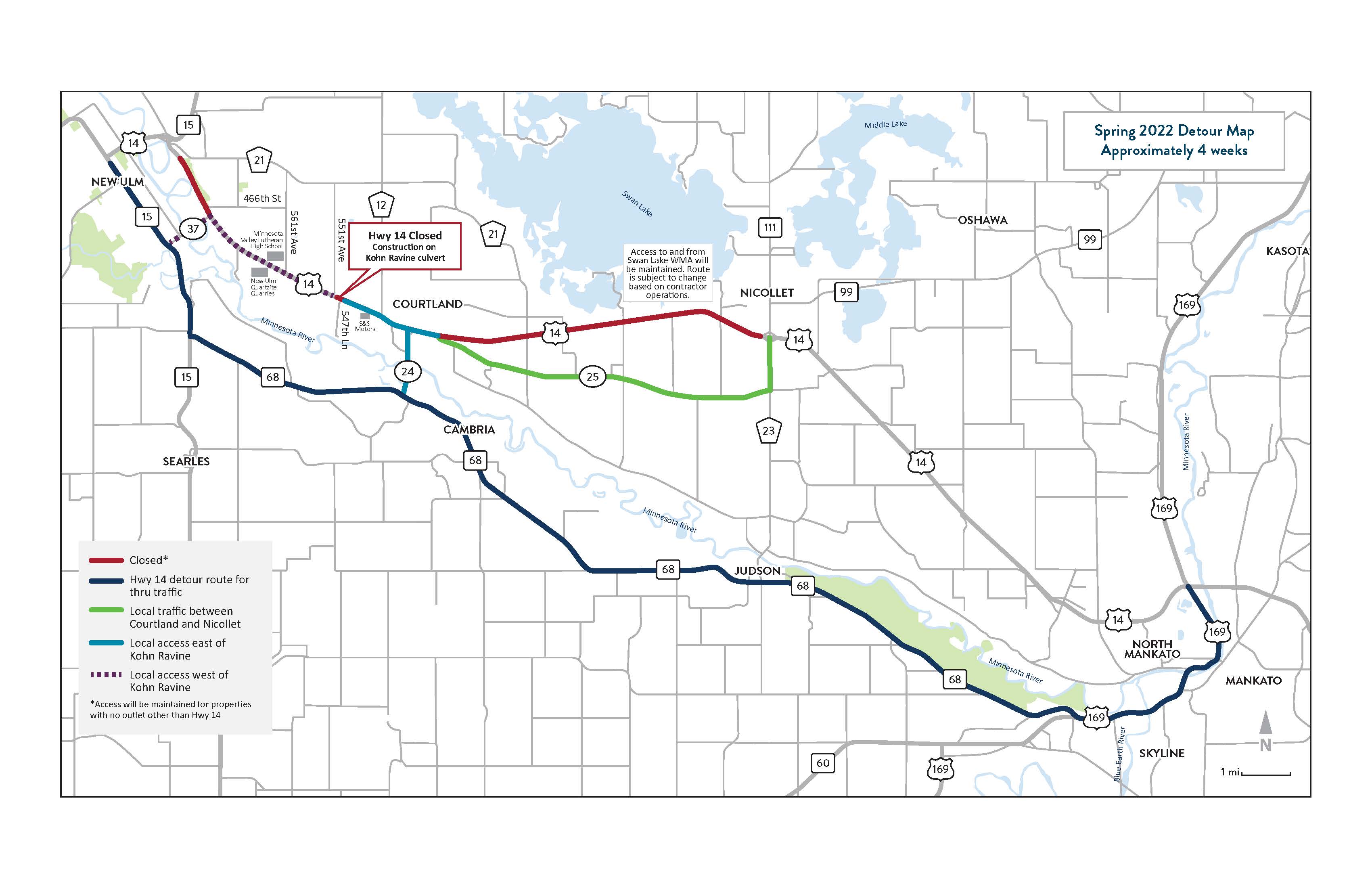 New Ulm Gateway (completed in 2019)
Construction from the Broadway signal to Hwy 14/15/CR 21 Y intersection in New Ulm began in Fall 2017 with the majority of work done in 2018-19. Landscaping and aesthetics were completed in Spring 2020.
Nicollet to North Mankato (completed in 2016)
The Nicollet to North Mankato four-lane expansion project advanced from 2017-18 to 2015-16 due to Corridors of Commerce funding and included a 2.5-mile bypass of Nicollet. It also included grading and paving 6.5 miles of additional two lanes to the north of the existing Hwy 14, and 2.5 miles of four-lane bypass on new alignment south of Nicollet. This section opened to traffic on Nov. 11, 2016.
Related projects