Sign up for project email updates
About this project
Updates
Hwy 21 ramp closure to northbound I-35
If you travel on Hwy 21 and want to access northbound I-35, you will be detoured when the ramp closes beginning Sept. 11 for resurfacing at Faribault. The closure will last several weeks. The detour route has motorists travel further south on Hwy 21, turn right onto Hwy 60 and use the ramp to access northbound I-35.
New message signs
New, larger message signs are on I-35, north and south of Faribault, in advance of the construction zone to raise motorist awareness of slowing or stopped traffic and the approaching work zone.
The 10 portable changeable message signs were installed Aug. 31 to replace signs with flashers that were put up before the construction project began. As with the original signs, these new, larger message boards continue to be placed every six miles in advance of the work zone and activated when traffic is slow or stopped. Sensors remain in place to measure vehicle speeds and trigger the flashing sign alerts.
Additionally, MnDOT's contractor will be installing temporary rumble strips on the road in advance of the work zone to alert motorists to see the warning signs. Signs will alert motorists of the presence of the rumble strips once they are installed next week. MnDOT is awaiting shipment of the adhesive rumble strips.
The installations are being done to gain motorist attention of the approaching work zone, especially when traffic is slowing or stopped.
Avoid backups
Motorists should check 511mn.org, or the free mobile app, in advance to review traffic conditions, looking at traffic speeds, traffic cameras and any crash reports.
Motorists can experience slowdowns and backups from midday through late afternoon because of high traffic volumes on I-35. If you can adjust travel times or seek an alternate route, motorists can often avoid those delays.
Summary of work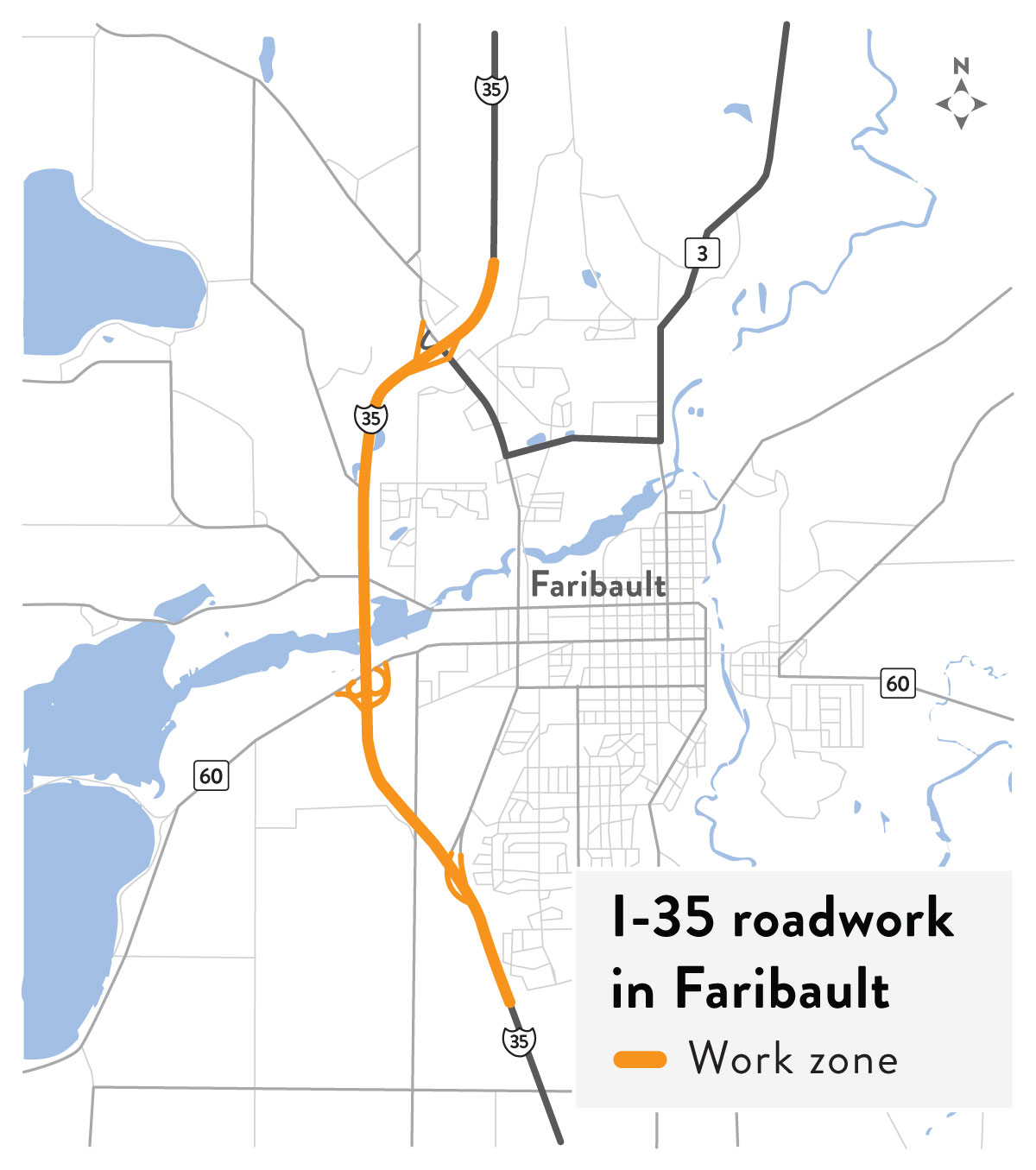 Construction will take two years to complete from 2023 to 2024. Construction in 2023 is scheduled to begin on July 10.
Work includes the following:
Resurfacing I-35
Resurface I-35 from near Rice Co. Rd. 48 to Hwy 21
Some portions of the roadway will be removed and/or regraded
Work at Rice Co. Rd. 48
Repair southbound Rice Co. Rd. 48 bridge over I-35
Resurface southbound I-35 on ramp
Resurface northbound I-35 off ramp
Work at Hwy 60
Change the southbound I-35 off ramp to allow for better deceleration and reduce run-off-the-road crashes
Alter the northbound I-35 off ramp and remove the eastbound leg of ramp. All traffic will come to a stop at the end of the off ramp and continue to their destination
Change the northbound I-35 on ramp to improve acceleration and merging onto I-35
Work at Hwy 21
Resurface and repair portions of the northbound I-35 on ramp
Extend northbound I-35 acceleration lane to better accommodate merging truck traffic
Resurface southbound I-35 on ramp
Resurface northbound I-35 off ramp
Guardrail and lighting
Replace all guardrail
Remove and reinstall cable median barrier
Replace all light poles
Traffic signals
Replacing traffic signal at Hwy 60 and 30th Ave. NW
Three other traffic signals will be replaced in 2024 as part of a different MnDOT project. Additional information can be found on the project website
Additional details
This project will extend the life of I-35 and create a smoother ride for motorists from near Rice Co. Rd. 48 to Hwy 21. It will also improve ramps, and bridges, and replace a traffic signal and lighting.
The main goal of the project is to resurface I-35 which will extend the life of the roadway and make it a smoother ride. The team has chosen a technique called an unbonded overlay. This can cause as much as a 9 inch difference in height which will not match up to the existing roadway. To adjust for the difference, short sections of the road will be removed and rebuilt.
The team will also address crashes and acceleration/deceleration issues by adjusting ramps. A bridge will get some replacement parts to help it last longer. A traffic signal and lighting replacement will also happen.