Sign up for project email updates
Update
Construction will be delayed from 2024 to 2025. This spring, MnDOT determined that right-of-way was needed from a property with high risk of environmental contamination. The environmental review adds approximately 12 months to the plan development schedule to allow for investigation of contaminated soil, groundwater, and/or solid waste on the property and determine best management practices for construction. MnDOT determined that there was no way to complete the project without the property purchase.
The City of Blooming Prairie and MnDOT will continue to advance the project in preparation for construction in 2025.
Summary of work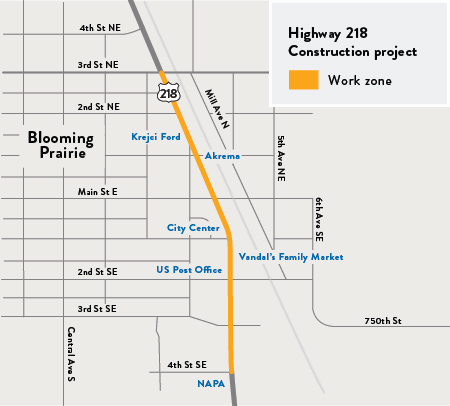 Reconstruction of Hwy 218 corridor through Blooming Prairie is scheduled for 2025. This project will include adding new pavement, enhancing accessibility, installing sidewalks and improving everyone's safety at the Hwy 218 and 1st St. NE intersection.
Currently, MnDOT is reviewing options for adding through lanes, turn lanes, bicycle and pedestrian facilities with the City of Blooming Prairie.
Public engagement is on-going and anyone with comments or questions are encouraged to reach out to the project management team.